Committees

Here's this month's Bulletin
Past Bulletins

Minutes and Agendas

You'll need Adobe Acrobat Reader to view bulletins, minutes or agenda, get it here!

Welcome to the Fairfax County (VA) Federation. We are THE Association for the County's Homeowner, Civic, and Community organizations. Join us as we work together on issues that impact all Fairfax County residents.
The Fairfax County Federation of Citizen Associations is conducting its annual survey for opinions about issues facing Fairfax citizens. Your response contributes to making a better Fairfax County and Virginia Commonwealth.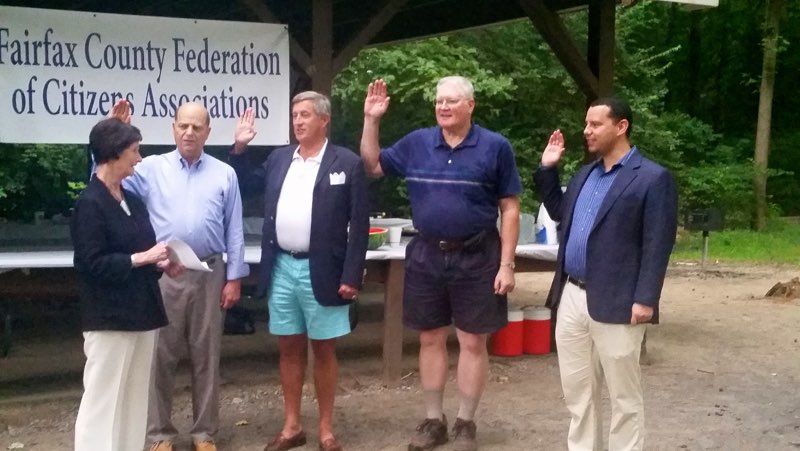 Board Chair Sharon Bulova administers the oath to our new officers: 2nd VP Bill Barfield, President Tim Thompson, 1st VP Ed Wyse and Treasurer Alejandro Mattiuzzo

President: Tim Thompson
First Vice President: Edward Wyse
Second Vice President: Bill Barfield
Treasurer: Alejandro Mattiuzzo
Recording Secretary: No Nominee
Corresponding Secretary: Matt Bell
All our Federation email addresses are now in the format:
FedPosition2017@FairfaxFederation.org


All email links on the website are being updated,
but if you come across one not in the proper format,
please be sure to update it in your email application!


Coming Up
Federation Inclement Weather Policy
---
Next Federation Membership Meeting
Thursday, 15 September 2016, at 7:30 p.m.
Neighborhood to Neighbor
Learn about communities working out ways to use inter-generational communication to help all, especially their older neighbors.
Presented by: Cherie Lejeune, Co-chair, Federation's Human Services Committee Co-Chair Mason Governmental Center, Main Community Room
6507 Columbia Pike, Annandale, VA 22003
Draft minutes of previous Membership meeting are in the current Bulletin
Members' Agenda (posted week of meeting)
---
Next Federation Board Meeting
Thursday, 22 September 2016, at 7:30 p.m.
Dunn Loring Center, Room 108 (Entrance 2)
2334 Gallows Road, Dunn Loring, VA 22027
Draft minutes of previous Board meeting
Search this site!
Cut and paste this string into Google with your search words:

"inurl:www.fairfaxfederation.org"

for example: "inurl:www.fairfaxfederation.org BRAC"
or
"inurl:www.fairfaxfederation.org Dulles Rail"
The Federation in the Media
Check out references to the Federation in the local media!
Approved Federation Actions